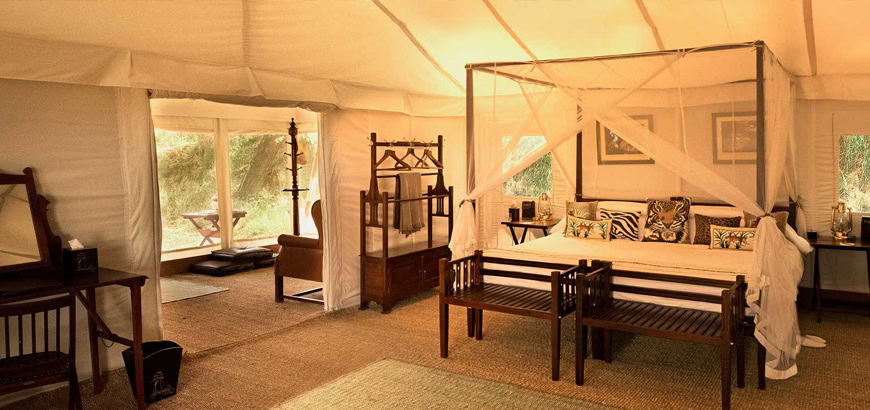 The Sujan Group of hotels in India boasts of the finest accommodation in the hospitality business in India. Sher Bagh at Ranthambore is tented accommodation enmeshed in spoiling luxury.
Completely enclosed in mud walls the tented accommodations are categorized as Buraa Sahib Suite, Pukka Sahib Suite and luxury tents. The nostalgic nomenclature dates back to the British Era and "Sahib" word was used address the ruling elites.
The emphasis on these two ultra luxury tents is on greater comfort provided by climate control, stylish interiors, colorful embellishments and colonial era furniture. The private lounge, the personal swimming pools and butler service are the privileges that keep them apart for the luxury tents.
The climate controlled luxury tents are spacious and equally well appointed minus the extra frills as above. All accommodations contain en-suite bathrooms equipped with modern gadgetry for ablutions. The large sized beds with luxurious fittings ensure the finest sleep quality and assured ergonomics.
Live cooking is one of the inviting features of this high end luxury set up. The cuisine includes Indian with a touch of local flavors, European and Anglo Indian lunches. Meals are also served in traditional thaalis in and around Sher Bagh in confines with suitable ambiance.
Another impressive inclusion is that of Sujan Spa for rejuvenating massages. The ultra luxurious resort offers a varied medley of therapies imparted by trained hands. A boutique is also on the pipeline. Besides all the modern activities and services the property also organizes tiger safari and tour packages all over Rajasthan.
| | |
| --- | --- |
| Restaurant, Bar & Coffee Shop; | Poolside Bar |
| Billiards Room | Swimming Pool |
| Boutique | Fitness Tent |
| Spa And Yoga | Bonfire At The Mango Orchard |
| Elephant Ride | Baby-Sitting Service & Activity |
| Dry Cleaning/Laundry Service | House Naturalist |
| Car Parking | All Major Cards Accepted |
| Currency Exchange | Safety Deposit Boxes |
| Medical Service (On Call) | Wireless Internet In Tents |
FAQ The Sher Bagh Resort Ranthambore